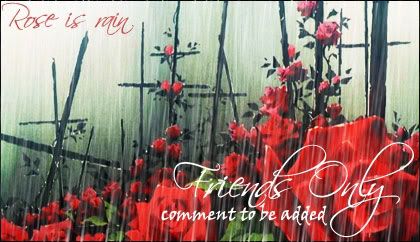 Rules:
1.|| Respect me and the fact that this is my journal. I will rant and rave about my girlfriend, videogames, and whatever else strikes my fancy. If you don't like reading long entries, don't bother adding me. I also talk a bit about my lovelife with my girlfriend, so if that bothers/squicks you, don't bother adding me. (Although I
do
usually put that behind a cut). That said, I won't tolerate flames on my own journal. If you've got beef with stuff I say, that's fine, but if you want to bring it up with me, do so in a respectful manner, m'kay?
2.|| List at least one reason why you want to add me. It's not too much to ask, right? Serial adders aren't welcome here, and I'd like to see that you're interested in actually knowing me at the very least. This will also prove to me that you at least read my rules.
3.|| Common interests help. I won't say you have to have a certian number of the same interests as me, but a handful maybe? More than one or two? It would be hard to get along if we don't even have a few common interests.
4.|| Tell me how you found me/know me. Just because I don't know you doesn't mean I won't add you. I'd like to make friends. In fact, you're free to IM me or send me an e-mail if you'd like to talk to me.
5.|| Please read my profile, either here or on my user info page. I read my friends' profiles, and even check them occasionally to see if anything's changed.
6.|| If I remove you from my FL for any reason, I ask that you kindly remove me from yours as well. Sankyou.
I'm really not a hard person to get along with. I just want to make sure my friends are interested in getting to know me, rather than having me be another name on their friends list. kthx
Also, I'm screening posts by non-friends for this entry.